See on Scoop.it – PR, Social Media and Marketing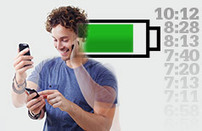 See which #smartphones last the longest on a charge"
Maurizio Fantato's insight:
Today I am going to take a diversion from software and marketing communications strategies focussing on something slightly different: smartphones and in particular Android ones. There are of course countless articles out there on how you can select your next best phone, but in my opinion these are the two key rules:
1. Make sure the phone you buy has the longest lasting battery. Yes, you may need to compromise on the model, but believe me, if you intend to use your smartphone to its fullest it won't matter how 'smart' it is, if it runs out of juices after a couple of hours. A phone with a battery that only last 6 hours is pretty useless. Say you're attending a conference, or visiting an exhibition, would you really want to start looking for a socket a few hours into the event, or would you want to carry spare batteries? I dont' think you would, so pick the one with the longest battery life. There is no compromise here, unless all you want is a fashion gadget.
2. Beware of 'crapware' this is software that comes rooted into your Android phone courtesy of either your network provider or phone manufacturer. Samsung is notorious for filling your phone with unwanted software. It updates automatically, it can't be stopped (in theory it can, not in practice) and just eats on resources. If you can get either a rooted phone, or one with the least software, or a Nexus as this is Google's own brand and therefore you will receive all the updates as they come out. By the way, this is another drawback of smartphones as manufacturers want you to change them as otfen as possible, so they will seldom provide you with the latest operating software update even if your phone would be capable of handling it (Nexus being the exception).
If you have done your homework on 1 & 2 you can now pick any of the other available options you think would suit you best (camera, etc. etc). I can now hear Apple fans saying 'get an iPhone', and sure enough you could, but do we all want to end up using the same phone?
See on blog.laptopmag.com